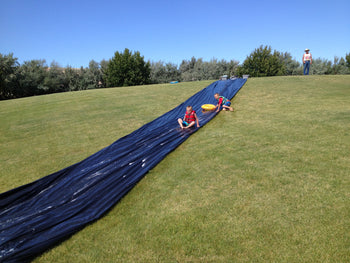 How to Create a Slip n' Slide from a Billboard Vinyl
With Summer in full swing, many of us are looking for affordable ways to keep our kids entertained and cool.  Look no further! Billboard Vinyls make excellent Slip n' Slides that will keep them entertained for hours, and it is pretty simple!
Step 1: Prepare the Area
Make sure the vinyl is placed on a portion of your yard that ideally has a slight downward slope with no debris or rock underneath.
Step 2: Set up the Slide
We recommend using a black-backed vinyl. Smooth it out so there are no large wrinkles, then use stakes to secure it in place.  Make sure the stakes do not stick 
Step 3: Add Soap + Water
Spray down the tarp with a hose and dish washing liquid.  You will want to lay the hose down so the slide is continually wet, or you can try hanging the hose from a clothesline!  
Step 4: Enjoy!
You might need to occassionally add more soap - just put it at the beginning and your sliders will spread it out as they go! Wait for the tarp to dry once you are finished for the day, and then it can be stored easily for next time!